This website may contain affiliate links and advertising so that we can provide recipes to you. Read my privacy policy.
Creamy tuscan garlic scallops are infused in a creamy garlic sauce that is to die for with sun dried tomatoes and spinach hidden throughout. This is a MUST make tried and true dinner!
If you haven't tried my insanely popular Tuscan Garlic Chicken yet, now is the time to try with scallops. This is a restaurant quality meal that you can easily make at home!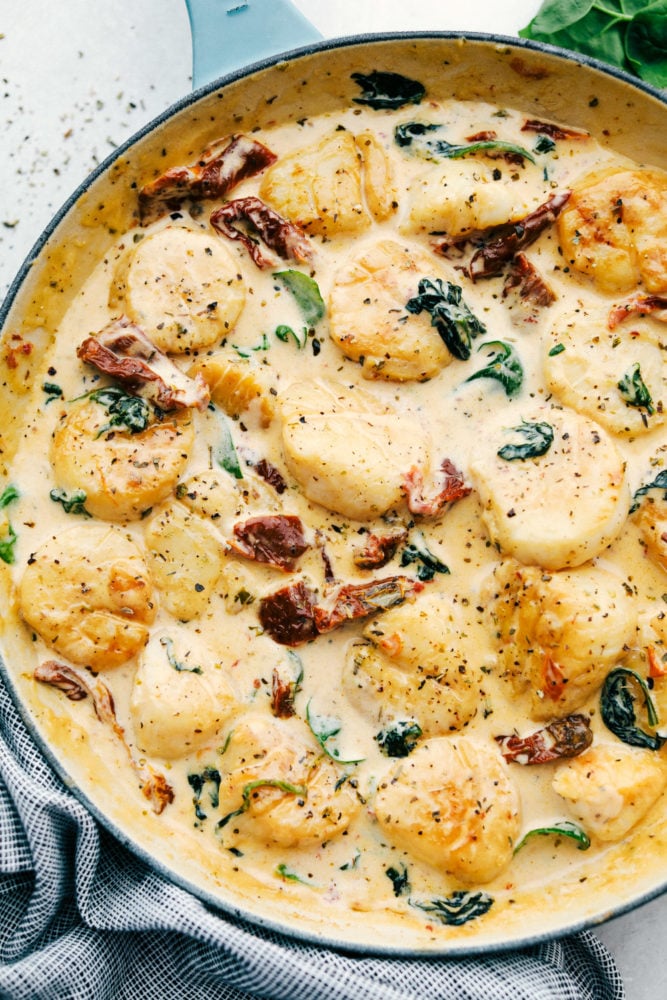 Amazing Creamy Tuscan Garlic Scallops
These tender- crisp buttery scallops, enveloped in a creamy, garlic rich, smooth sauce are going to melt in your mouth. This is going to surprise you with how easy it is to make this, yet at such a fine dining quality. The sun dried tomatoes are going to release so much flavor into the sauce, while cream, wilted spinach leaves and garlic give it body.
So many people are scared of cooking scallops, but they're really one of the easiest to cook, and this is just the recipe to try them with. They cook fast similar to shrimp so it comes together quite in pinch for a delicious weekday meal.
Tuscan Garlic Scallop Ingredients:
For a perfect meal serve our Creamy Scallops over pasta with a simple side salad and Crusty French Bread. For low carb, keto friendly try over your favorite roasted veggies, zoodles or Mashed Cauliflower to soak up this amazing sauce.
Olive Oil: Avocado oil can be substituted here but I like the flavor of the Olive Oil.
Scallops: If you don't like scallops try fresh Shrimp instead.
Heavy Cream: Using the Heavy cream vs Half and half will give you a more rich decadent sauce.
Chicken Broth:  Adds savoriness and flavor
Garlic: mincing the garlic will saute at an even rate, careful not to burn it.
Garlic Powder: Adding garlic powder helps give you that bold garlic flavor.
Italian Seasoning: One of my favorite quick go to spices
Parmesan Cheese: Freshly grate your own or look for it pre-shredded in you store.
Spinach: Don't be shy with spinach it will cook down. Chop it small pieces to avoid large leaves.
Sun-dried Tomatoes: Find jarred sun-dried tomatoes where you find canned vegetables.
How To Make Creamy Garlic  Scallops:
Sear: Heat oil in a medium skillet over medium high heat until it's hot and sizzling. Thoroughly pat scallops dry with paper towels. Add the scallops in a single layer, (may need to work in small batches to avoid over crowding.) Sear until a nice golden crust forms, flip and sear on other side. Transfer to a plate once done.

Make the sauce: In the same pan and a little more olive oil and saute the minced garlic just until fragrant, about 30 sec. Add the broth, cream, garlic powder, Italian seasoning, and cheese. Whisk until it starts to thicken.
Simmer: Add the sun-dried tomatoes and spinach and let simmer till the spinach wilts.
Add: Gently add the scallops back to the sauce, giving it a quick stir.
How to Cook Perfect Tender Scallops:
If you have never cooked scallops at home, it can seem intimidating. Here are a few tips to help make it easy.
Buying: Look for frozen wild caught scallops without the roe for ease. The roe is a bright orange or coral colored crescent shape that can still be attached. It can taste a bit bitter. If that is all you can find simply remove it before cooking.  Whole scallops will also come with the roe and the muscle that attaches it to the shell, that too will need to be removed.
Thaw: Place the scallops in a bowl of cold water for 10-20 minutes until completely thawed. You can also thaw them over night in a bowl in the refrigerator.
Pat Dry: Thoroughly patting them dry with a couple of sheets of paper towel is important before you season and cook. If there is too much water left in the scallops, it will release while cooking and they'll simmer instead of sear.
Sear: When the scallops are done they'll have a beautiful crust on each side and the center should be milky white, or opaque. Internal temp will be 130 degrees Fahrenheit.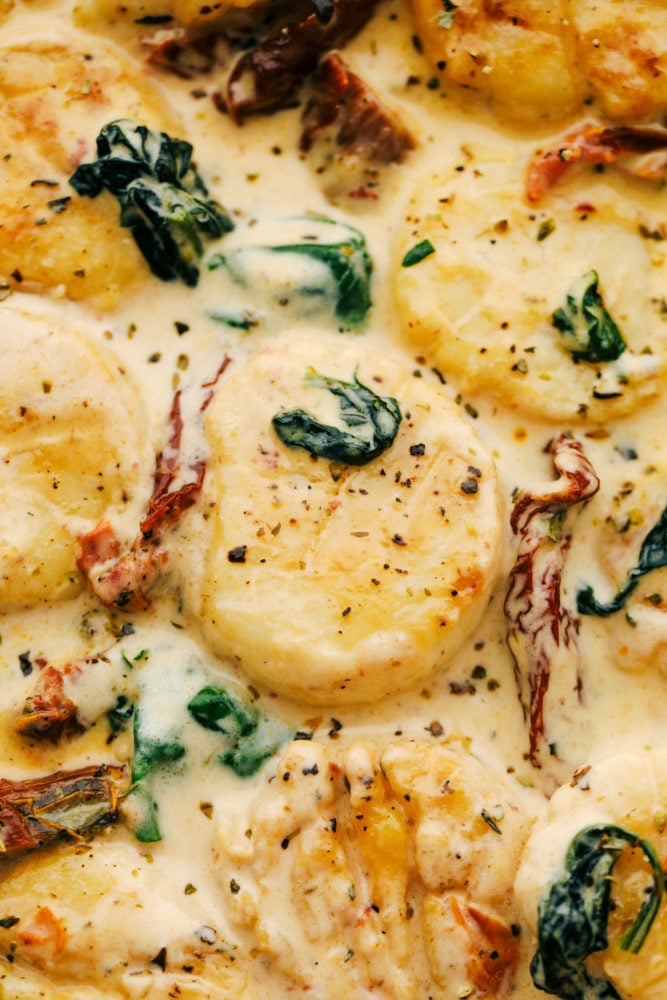 How to Store Scallops:
Serve: Scallops should not be left at room temperature for more than 2 hours, for safety reasons.
Store: Store leftovers in the fridge in an airtight container for up to 3 days.
Freeze: You can freeze cooked scallops for up to 3 months, but do not add the sauce before freezing. Make the creamy garlic sauce fresh when ready to serve.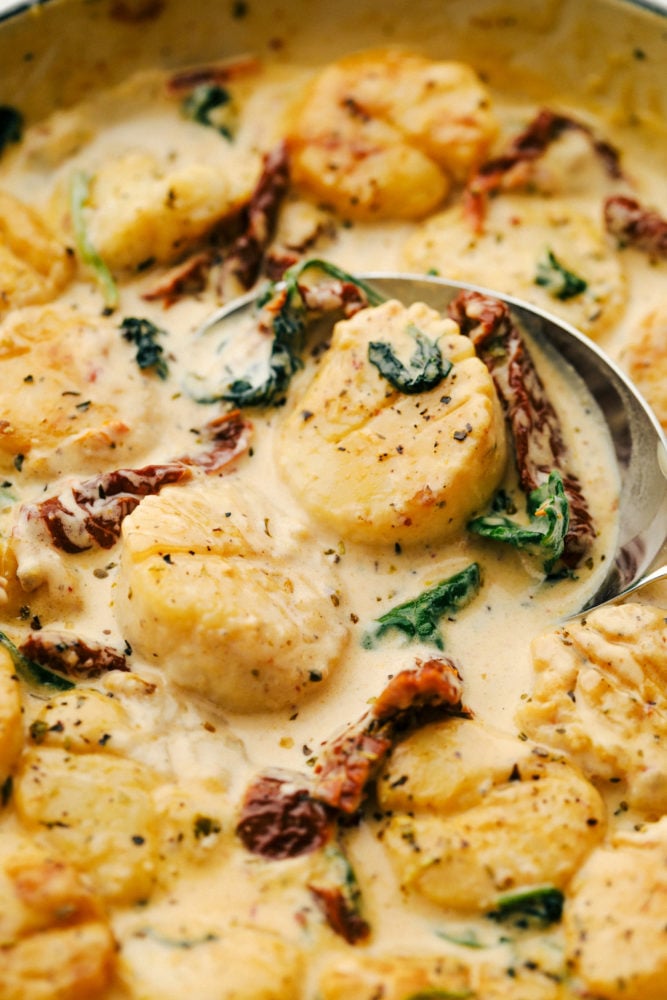 More Amazing Scallop Recipes: