This website may contain affiliate links and advertising so that we can provide recipes to you. Read my privacy policy.
Baja Fish Tacos are soft tortilla shells stuffed with crispy beer battered cod and topped with pico de gallo and the perfect cilantro ranch dressing.  Every bite of the fried fish is bursting with flavor but is still light and fresh enough for a perfect summer meal!
Fish tacos are a great seafood version of the tried and true taco.  Try Easy Shrimp Tacos and Grilled Spicy Blackened Salmon Tacos for more great fish taco recipes!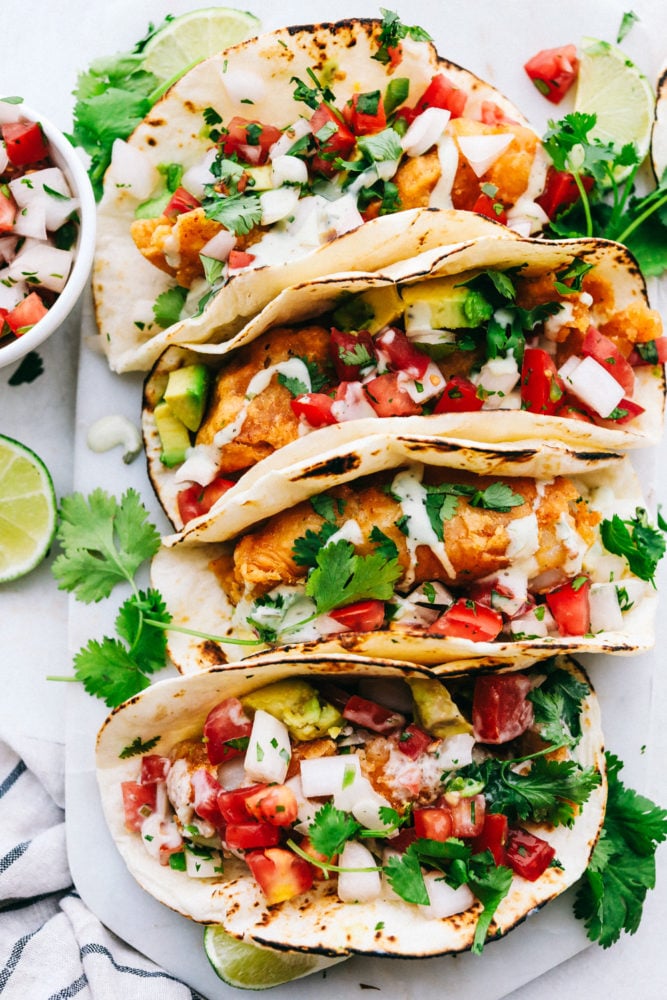 Fish Tacos
Fresh and colorful fish tacos are the quick and easy, but insanely delicious recipe you have been looking for this summer!  They are so easy to put together and make a great meal for any day of the week.  The cod is perfectly flaky with a well seasoned beer battered coating that has the perfect amount of crisp.
Load your fish into homemade tortillas for a soft shell.  Then drizzle the pan fried cod with freshly diced pico de gallo and homemade cilantro ranch dressing as your baja sauce.  Finally, sprinkle cilantro all over for a vibrant citrusy spice and great color.  These tacos are a dinner everyone will go crazy over!
Taco Ingredients:
Don't let this long list scare you because a big part of ingredient list is seasonings for the perfectly crispy crust on the cod.  These are those staple spices you already have in your cabinet and get used often!  The fresh cod will be the most important element of these fish tacos, so be sure to buy the freshest fish you can find.  Even if that means swapping out cod for a different fresh catch of the day!
Fresh Cod: Use a mild white fish. Halibut, Mahi Mahi, or Talapia are some other good examples if you can't find fresh cod.
Salt and pepper: Used to season the cod and also in the crispy beer batter.
Flour: Combine flour with seasonings and beer to make the perfect batter.
Chili powder: A blend of savory spices that adds mild to moderate heat depending on the blend.
Paprika: Very mild smokey flavor and adds great color to the cod.
Garlic powder: Adds a sweet garlic flavor.
Cumin: Adds earthy depth to the flavor of the batter.
Beer: Combine with dry ingredients to make a moist batter to dredge the fish in.
Oil: Heat to 350 degrees before adding in cod.
Toppings: Pico de Gallo and Cilantro Ranch Dressing
Tortilla Shells: Make your own homemade tortillas or choose any store bought variety that are about 6 inches.
How to Make Baja Tacos:
This savory fish taco is not too complicated to make.  If you are not used to working with fish, no problem! This recipe is easy to follow.  Start by slicing the fish and dredging it in the batter.  Then, fry it in hot oil for a short 2-3 minutes per side.  Once your fish is done, you are ready to put together the most amazing fish tacos you have ever had!
Prep fish: Prepare the cod by cutting them in one-inch pieces about 3-4 inches long. Salt and pepper and set aside.
Combine dry ingredients and beer: In a medium sized bowl add the flour, chili powder paprika, garlic powder, cumin, salt and pepper. Add the beer and stir until combined.
Heat oil: Preheat a medium sized skillet over medium high heat, add oil until it is about ½ inch up the side. Heat until the thermometer reads 350 degrees.
Coat cod: Working in batches, dredge each piece of cod into the batter
Fry: Add cod to the preheated oil until golden brown about 2-3 minutes each side. Remove and set aside on plate.
Assemble: Put together the tacos on a flour tortilla and top with fresh pico and cilantro ranch dressing.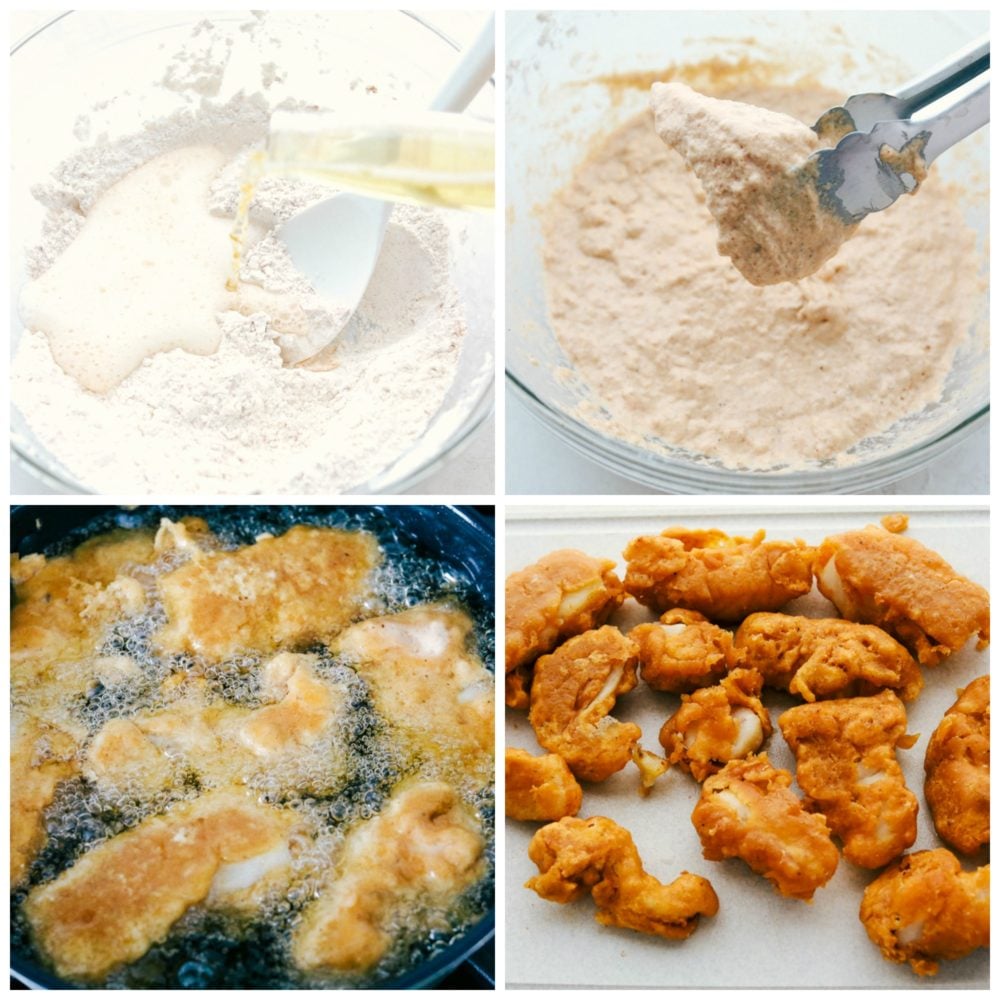 Taco Tips:
The original Baja Taco was made with a deep fried white fish, creamy white sauce, and shredded cabbage or slaw.  It is easy to see why it has remained so popular!  It is an easy and crowd-pleasing meal.  Everyone can pile their taco up and stuff it with all their favorite toppings.  These will be the best fish tacos you have ever had!
Some pro tips to follow:
Make a slaw to add extra crunch: Making a simple slaw to stuff in the taco will add the perfect additional crunch to your taco.  You will want to mix finely shredded cabbage, chopped red onion, apple cider vinegar, oil and salt to make a great slaw that will go perfectly with the spices from the cod batter.
Drain the Fried Fish: When you remove your fish from the pan, lay them on a paper towel lined plate to soak up any excess oil from the fish.
Serve with: Lime wedges, avocado, slaw, rice, pico, cilantro ranch dressing, shredded cheese, mexican street corn
Don't over crowd the pan: Cook the cod in batches so the oil keeps its heat and the fish cooks evenly.
Sift flour: Before adding the flour into the batter mix, sift it to get the perfect consistency in the batter.
Dry Fish: Pat the fish dry before seasoning and dredging in batter.
No Beer Batter: If you don't want to use beer in your batter you could swap it out for ginger ale or sprite!
Corn tortillas: Some people swear by using corn tortillas in this recipe.  If you are a corn tortilla lover try it out!
Can Fish Tacos Be Made Ahead?
You are going to love these amazing fish tacos! Especially since the ingredients can be prepped and stored ahead of time! Your tacos will ready to build any night of the week!  Be sure to store baja taco toppings separately for the best results.
To store the cod: Allow to cool completely and store within 2 hours of cooking.  Then place it in a shallow airtight container.  The fish will remain safe to eat when kept in the refrigerator up to 4 days, but f you don't plan to eat your leftovers right away, you should store them in the freezer for up to 3 months.
To thaw frozen cod: Leave frozen cod in the refrigerator overnight to thaw, then use within 3 days.  If you re-heat in a microwave, eat immediately.
Cilantro Ranch Dressing: Keep in an airtight container in the refrigerator for up to 2 weeks.
Pico de Gallo: Stores well in the refrigerator for up to a week or in the freezer for 1-2 months.
Cabbage Slaw: Wrap tightly and store in the refrigerator for up to 5 days.  Do not freeze.
More Tasty Taco Night Recipes: