This website may contain affiliate links and advertising so that we can provide recipes to you. Read my privacy policy.
This Honey Garlic Chicken is healthy and delicious with a sweet, sticky garlic glaze. It only takes 5 ingredients to make the marinade and cooks up in less than 10 minutes.
This will be your new favorite grilled chicken for barbecues or just everyday meals. If you love crazy easy grilled chicken dishes, you should try my BBQ, Hawaiian, and California avocado chicken, too!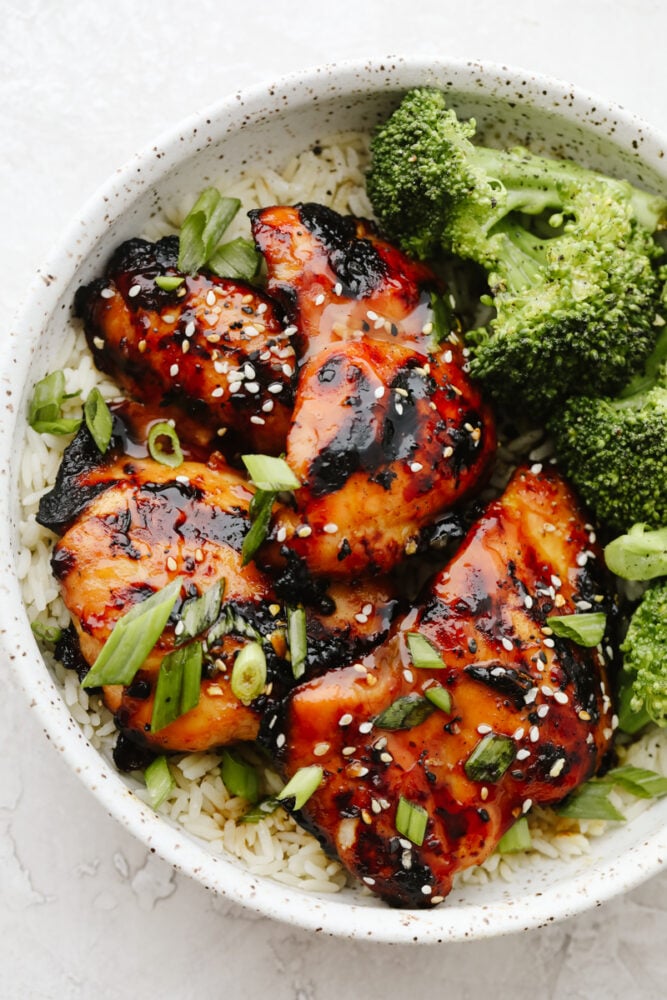 Quick and Easy Honey Garlic Chicken Recipe
If you are searching for a tender, juicy chicken recipe with a to-die-for sticky garlic sauce, look no further. This honey garlic chicken is so soft and mouthwatering, it sears up perfectly on the grill and turns out moist and flavorful every time. The best part about this honey garlic chicken, it only takes a few pantry staples to whip up and it is healthy! Anything that tastes this good but won't kill my diet gets an A+ in my book.
Even though grilling chicken is so easy, it is tough to get right. Over the years, I have ended up with grilled chicken that is tough and rubbery. Having the proper marinade and cooking techniques are so important. I will walk you through step by step to achieve this tender, delicious chicken. My family loves it and I know yours will too!
Grilled Honey Garlic Chicken Ingredients
Do not let the simple ingredient list fool you, this honey garlic chicken has big, refined flavor with the perfect combination marinade. Your family will be raving with this dinner recipe! For all ingredient measurements, see the recipe card below.
Uncooked Chicken: You can use either thighs or chicken breasts.
Honey: To sweeten and give the marinade its perfect, sticky texture.
Soy Sauce: For a perfect, savory marinade base.
Apple Cider Vinegar: Helps tenderize the chicken and add a sweet, zippy flavor.
Garlic: Minced.
Lemon Juice: Fresh from the juice of one small lemon. While fresh lemon juice adds the best flavor, you can also substitute with bottled lemon juice.
Sesame Seeds and Green Onions: Optional, for garnish.
How to Make Honey Garlic Chicken
Since this chicken is so easy and cooks up in minutes, you have more time to whip up a delicious side like Greek broccoli pasta salad for a complete summer meal! In just a few quick steps this honey garlic chicken will be on your table in no time!
Prepare Marinade: In a small bowl whisk honey, soy sauce, garlic, and lemon. Reserve ¼ cup of the sauce
Add to Chicken: Add the rest of the sauce to the chicken in a medium-sized bowl and let marinate for 30 minutes.
Grill: Preheat the grill to medium-high heat and grill chicken, covered, over medium heat for 6-8 minutes on each side or until no longer pink. Baste occasionally with reserved marinade during the last 5 minutes.
Garnish: Add green onions and sesame seeds if desired.
Grilled Chicken Tips and Tricks
Your chicken will come out tender and flavorful every time with these simple tips! These tips will help you create the best honey garlic chicken right on the grill!
Thickness of Chicken: Larger cuts of chicken take longer to grill. Chicken typically will cook in 3-5 minutes on both sides, but if your cuts are thicker, you may need to add more time.
Grease Grill: Brush your grill with oil before cooking to keep your chicken from sticking to it.
Baste Often: Basting your chicken with marinade frequently during the cooking process will ensure you get a perfectly caramelized outside.
Cover Your Grill: Not covering your grill means longer cook times. It also keeps your chicken from being completely surrounded with hot air to be cooked evenly.
Thinning Chicken Breasts: If one of your chicken breasts is a lot thicker than the rest, pound it with a mallet before cooking to make sure it cooks at the same rate as the others.
How to Know When Chicken is Done: When juices run clear or the internal temperature gets to 165 degrees Fahrenheit, your chicken is done cooking.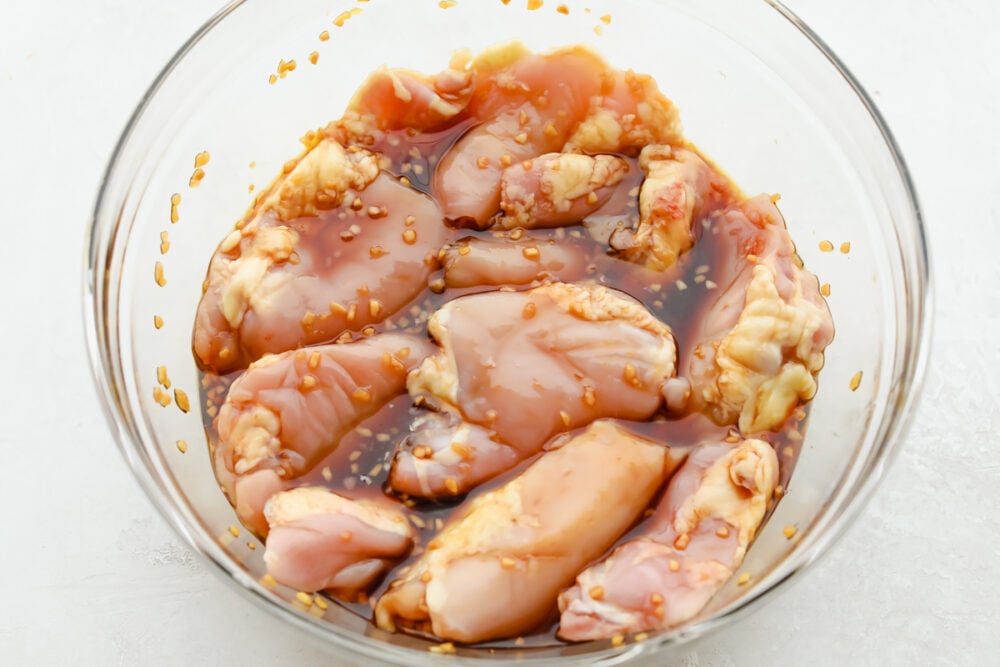 What to Serve With Grilled Honey Garlic Chicken
This flavorful chicken works well alongside so many different dishes. I have been loving it on top of rice served with grilled vegetables for a healthy rice bowl. It also tastes great on salads and in sandwiches. For a complete meal, serve it alongside pasta salad, grilled vegetables, or potatoes.
Storing Grilled Honey Garlic Chicken
Honey garlic chicken is the perfect meal to make ahead, freeze and reheat with these simple tips!
In the Refrigerator: Store in an airtight container for up to 4 days.
In the Freezer: Grilled chicken will keep in the freezer in an airtight container for 4 months. Let thaw before reheating.
Reheating: The best way to reheat grilled chicken is in the oven. Bake at 350 degrees Fahrenheit until the internal temperature reaches 165 degrees.