This website may contain affiliate links and advertising so that we can provide recipes to you. Read my privacy policy.
A southern classic, this shrimp boil recipe includes corn, potatoes, sausage, and shrimp boiled together in one pot and packed full of delicious flavor! It's a tried and true favorite that you don't want to miss!
I can't seem to get enough of southern food around here! If you love it as much as I do, then you need to try these hush puppies, this gumbo, and this perfectly crisp chicken fried steak!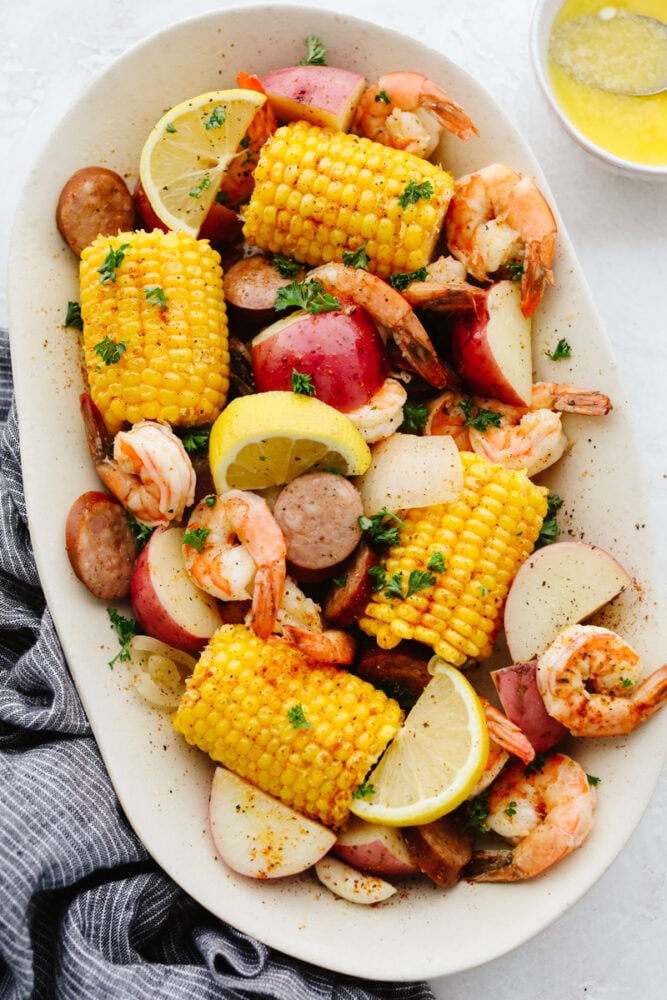 What IS a Shrimp Boil?
Oh boy! If you haven't cooked up a shrimp boil before then, you are in for some mind-blowing food! A shrimp boil is when you take some sausage, corn, potatoes, and ultimately shrimp and boil them all together in a large pot. It creates a divine flavor! Plus, because all ingredients are cooked together, they are packed to the brim with delicious seasoning. Old bay seasoning is the star of the show! It enhances all of the flavors of the ingredients. Then, you add in some freshly squeezed lemon wedges to top it off! That brings a bright flavor to the dish.
If you have ever seen how a shrimp boil is eaten, then you know you are in for some FUN! After it's cooked, you typically will place all of the food straight onto a table lined with a paper tablecloth. Yep, you read that right! You put it all straight onto the table! Everyone eats right from the middle, and it's an experience! This dinner is southern cooking at its finest. It makes a great family dinner and is easy because you don't have to make any extra sides! You need to make sure to keep this recipe on hand and cook it more than once this year.
What Ingredients to Put in a Shrimp Boil
Now that you know what a shrimp boil is, you need to know what to put in it! You will be blown away once you put all of these ingredients together! They taste SO good and create such a delicious and hearty meal! See the recipe card at the bottom of the post for exact measurements.
Water: This is the base to boil everything in.
Lemon: The lemon brings a fresh, bright flavor to the dish.
Garlic Cloves: You will want to leave these whole to get the most flavor out of them! Just peel and smash them before popping them in with the rest of the ingredients.
Onion: The pieces of the onion need to be large so that you get lots of flavor. So just go ahead and quarter the onions.
Old Bay Seasoning: This classic seasoning is perfect for a shrimp boil!
Red potatoes: Cut these up into quarters and leave the skin on. No need to peel them!
Salt: The salt will enhance all of the flavors in this recipe.
Fresh Corn on the Cob: You can find pre-cut and already husked corn at your local grocery store if you want to make this easier on yourself.
Andouille Sausage: This heatry meat adds in some great flavor.
Shrimp: Make sure that you get shrimp that is peeled and deveined. To make it look nice then leave the tails on!
Butter: Unsalted butter works great in this recipe.
Fresh Parsley: This will be used as a garnish on top.
How to Make a Shrimp Boil
Now comes the fun part! You get to put this all together and create a hearty and delicious meal that the entire family is going to love! It's that good! Once you cook this, you will see why the south has such a good reputation for their food!
Boil: Fill a large stock pot with 6 quarts of water. Add the squeezed lemon wedges, garlic cloves, quartered onion, and Old Bay Seasoning to the water. Stir to combine and bring to a boil over medium high heat.
Add salt and cook potatoes: Add the potatoes and salt, and allow to cook for about 10-15 minutes until the potatoes are start to be tender.
Cook in the corn and sausage: Add the corn and sausage pieces. Cook covered for 5 minutes.
Add the shrimp: Add the shrimp to the pot. Cover and cook until the shrimp start to turn opaque, 2 to 3 minutes. 
Drain and transfer: Using a slotted spoon to drain the water, transfer the shrimp, sausage, and vegetables to a large bowl. Save some of the cooking broth for the next step. Remove the boiled lemons and garlic cloves, and use fresh lemon for serving.
Melt the butter in broth: Place ¼ cup butter to a small bowl. Pour in 1 cup of the seasoned cooking broth to the bowl. Stir until the butter is melted. 
Pour, toss and coat: Pour the butter liquid over the bowl of shrimp, sausage, and vegetables. Gently toss to coat.
Transfer to table: Transfer the shrimp and vegetables to a platter, or traditionally on a dining table lined with plastic tablecloths or newspaper. Serve with fresh lemon wedges, chopped parsley, and hot sauce, if desired.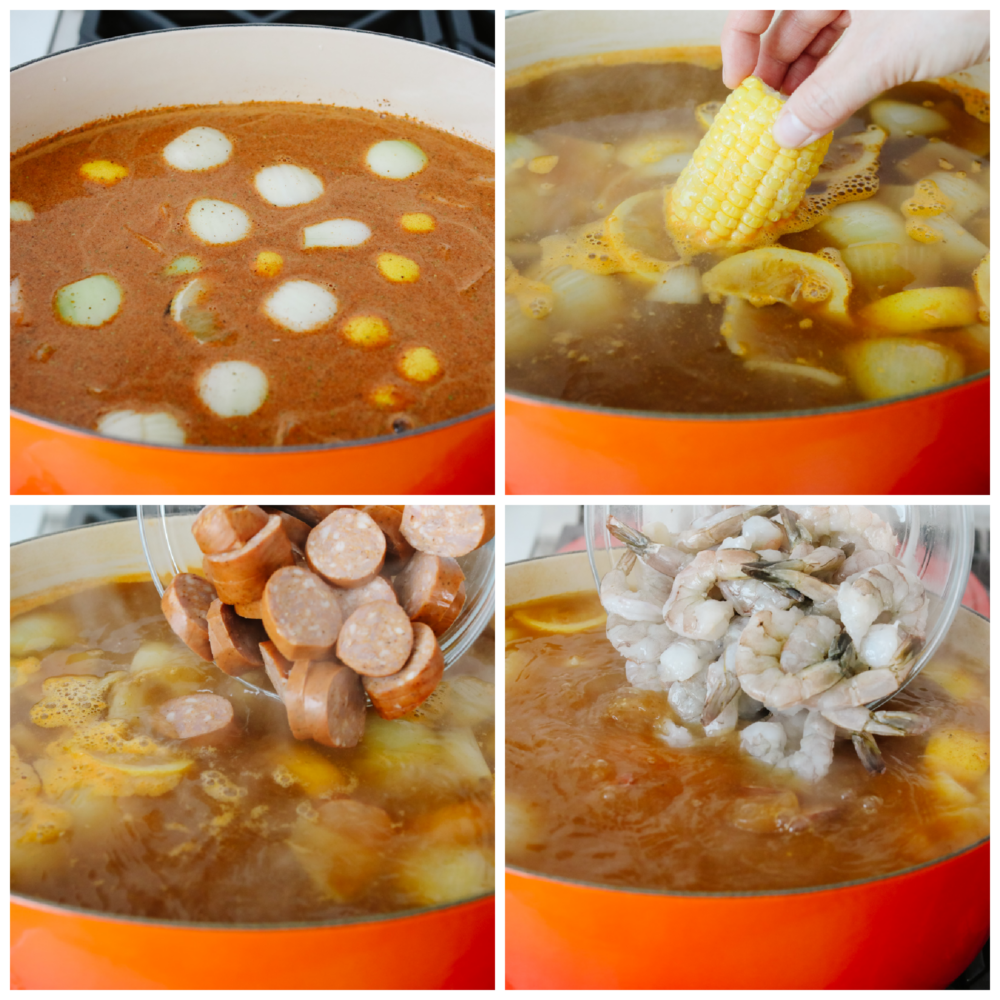 Variations
A shrimp boil is a casual dish, so adding your other favorite things to it is totally welcome! Here are a couple of ideas that you can try to change things up!
Add more seafood: If you are a seasfood lover and more is calling your name then add some to this dish! Try adding in some crab, lobster, clams or scallops for some delicious added flavor and texture!
Sausage: You can use any type of sausage in this recipe. I like to use andouille aausage in this recipe because of the unique flavor that it brings to the dish but you can use Cajun sausage for a different flavor and some added spice!
Add more veggies: You don't have to stop at the potatoes and onions! Add in some mushroom, asparagus and bell peppers to this shrimp boil!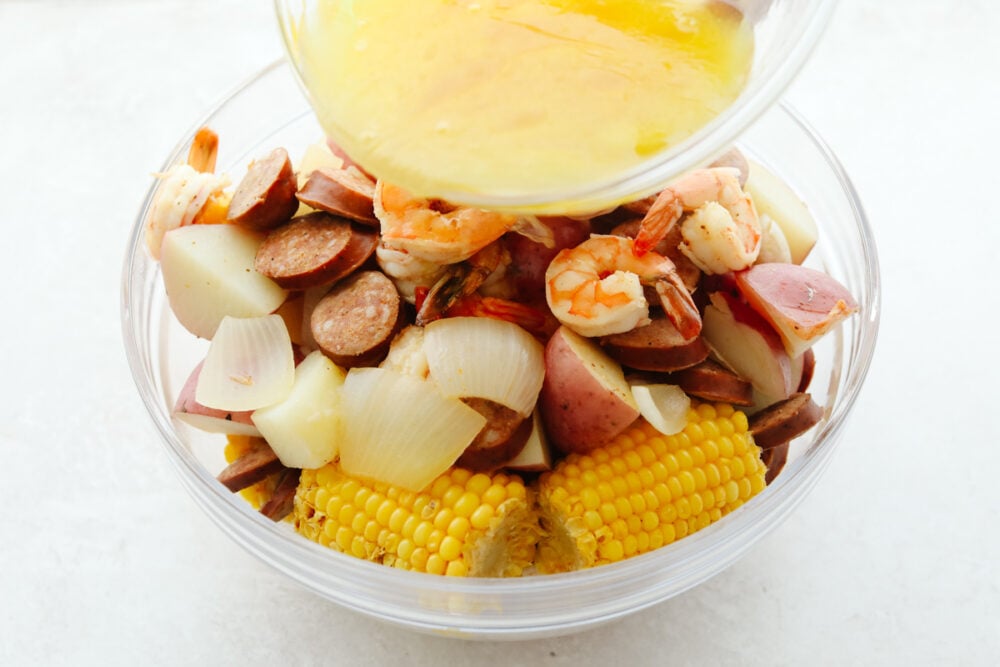 What to Serve with a Shrimp Boil
Because this recipe has SO many things in it then side dishes aren't necessary! But if you are really wanting to go big then for sure add some to the table! Southern cooking is all about variety so this is a great way to add to the meal!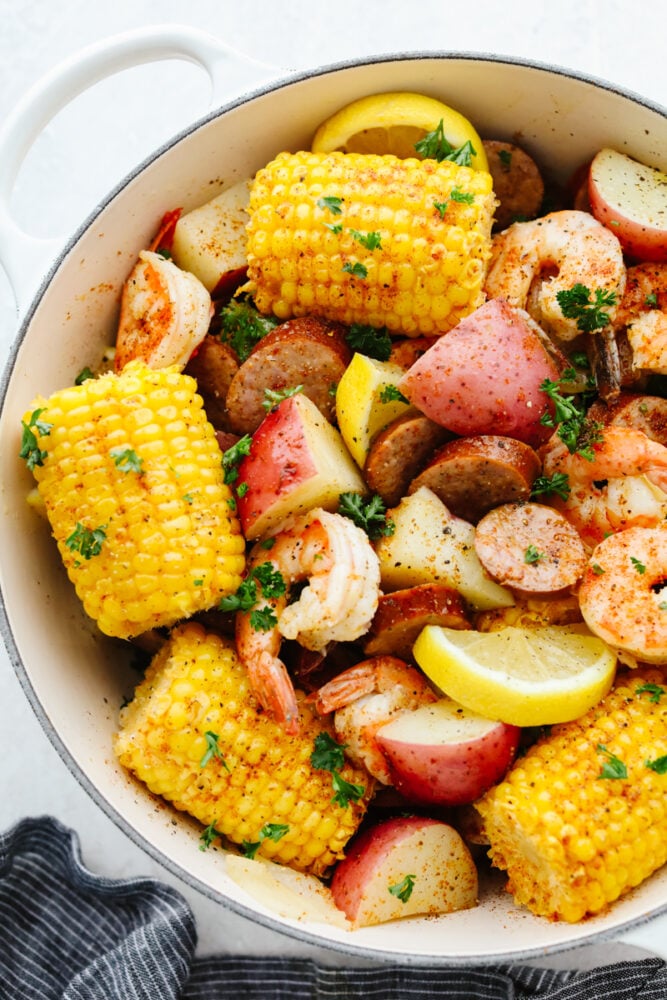 How to Store Leftovers
If you are lucky enough to have leftovers from this shrimp boil, then you are going to have the best meal the next day! Here are a few tips on safely storing this meal to eat later.
In the refrigerator: Once your shhrimp boil has cooled then place all of it in an airtight container in your fridge. It will last for 3-4 days.
How to Reheat: You can place the ingredients in the microwave and cook it for 30 second increments until the ingredients are warmed through. Enjoy!