This website may contain affiliate links and advertising so that we can provide recipes to you. Read my privacy policy.
Creamy Scalloped Potatoes are a tender, creamy and so delicious comforting dish! The parmesan cheese adds such an amazing flavor with a slight crust around the edges.
These make such a great side dish! They go perfect with Classic Honey Glazed Ham, Garlic Butter Prime Rib, or Skillet Salisbury Steak!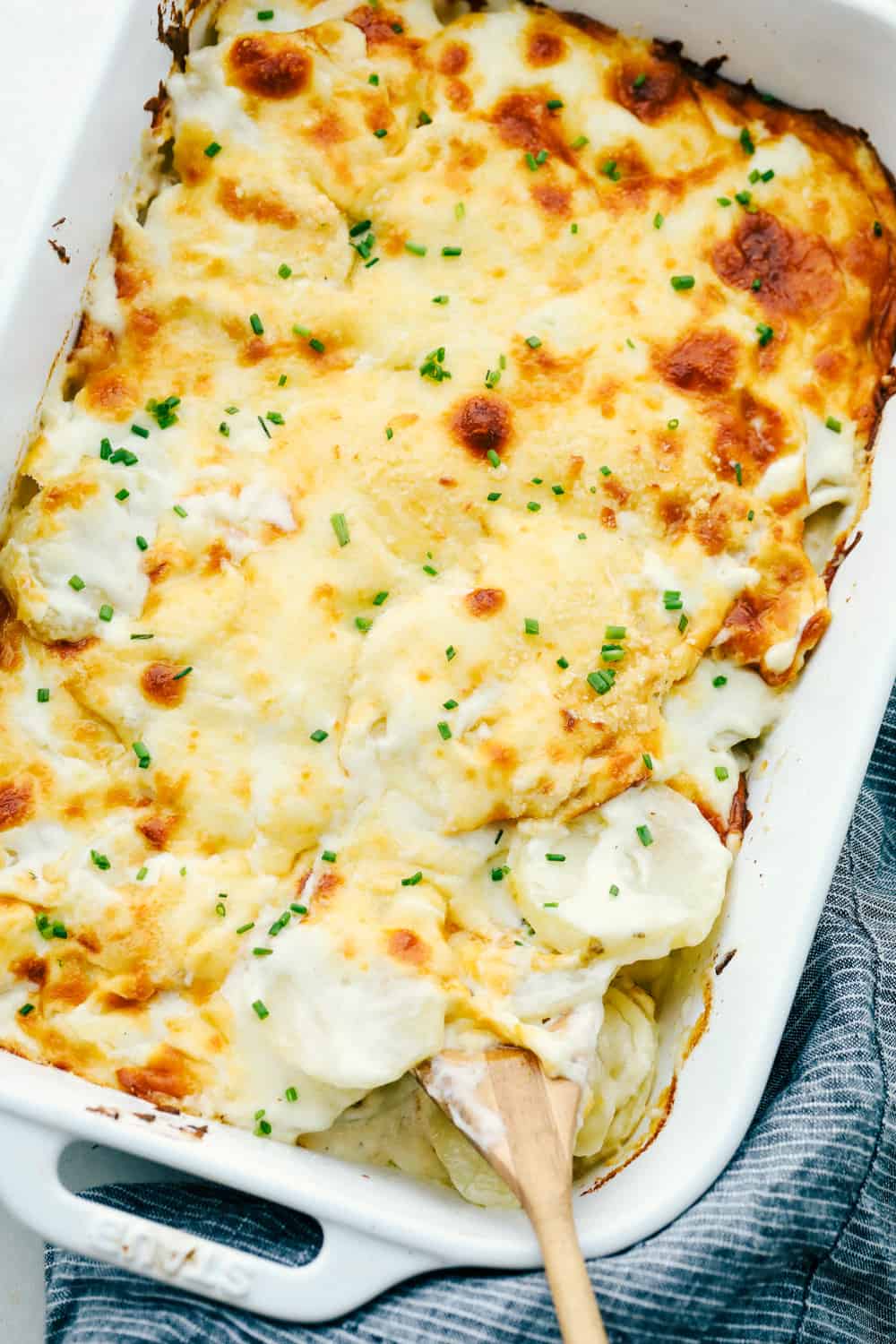 Creamy Parmesan Scalloped Potatoes
These Scalloped Potatoes are going to become an instant favorite at your home. They are SO creamy and delicious. And you are going to love the parmesan cheese inside. They are baked to tender potato perfection and the top will have a delicious crisp parmesan crust. Then you dig in to the creamy, delicious and cheesy layers.
Whether you are making these for a special occasion, holiday or any family dinner, you are going to LOVE these! It's perfect for any meal. They're comforting and hearty. Everyone is going to love these cheesy creamy potatoes.
Scalloped Potatoes Ingredients
Butter: Butter and potatoes just go together
Flour: Acts as a thickener
Salt and Pepper: Add more or less to taste
Whipping Cream: This is not frozen whipped topping. You can use heavy whipping cream or half and half.
Parmesan Cheese: Adds flavor and texture
Mozzarella Cheese: Such a great melting flavorful cheese
Potatoes: I used Russets
Chives: Fresh for garnish
How to Make Scalloped Potatoes
Melt: In a small saucepan melt the butter over medium heat and add in flour salt and pepper. Add in the whipping cream and stir till it begins to thicken. Then add in half of the parmesan cheese.
Layer: In a lightly sprayed 2 quart casserole dish, arrange half of the potatoes overlapping each other. Spread half of the sauce on top followed by ½ cup mozzarella cheese. Repeat with another layer of potatoes and sauce topped with mozzarella cheese and remaining parmesan cheese.
Bake: Cover with foil and bake at 325 for 40 minutes. Uncover and bake for 25-30 minutes more until the potatoes are fork tender and the top is starting to brown. Sprinkle with chives before serving.
Potato Tips
Kind: Russet Potatoes or Yukon Golds deliver the best taste and shape. Russets have the most starch and make the creamiest sauce, and Yukons tend to hold their shape a little better.
Cutting: Try to keep the potatoes the same size and slice them  between ⅛ and ¼ inch thick. You can use a mandoline or other tool for even uniformity.
Cook: Do not boil your potatoes before baking. The sauce relies on starch from the potatoes to thicken it.
Add ins: There are lots of ways to diversify this basic recipe. Add garlic, diced onion, peppers, for heat add a can of diced green chilies. You can also add crumbled bacon or small cubes of ham.
Cheese: You can use different kinds of cheese for different flavors and textures. Experiment with your favorites.
Curdling: The curdling is caused by high heat. So to keep the sauce together, you need to make a smooth cheese sauce instead of layering grated cheese and milk or cream with the potatoes. Also don't boil your sauce.
Storing Parmesan Scalloped Potatoes
Fridge: Keep in an airtight container in the fridge for up to 3 days in the fridge. Reheat in the oven.
Freeze: If you plan to freeze the scalloped potatoes, the potatoes need to be removed from the oven before they finish cooking to protect their texture. Once you freeze the potatoes, you may want to thaw them in the refrigerator or bake them frozen.
Make Ahead: You can bake these ahead of time and refrigerate the day before then reheat in the oven for half an hour to 40 min before serving
Need Even More Potato Inspired Side Dishes? Try these!