This website may contain affiliate links and advertising so that we can provide recipes to you. Read my privacy policy.
These lobster tails cooked in the air fryer are incredibly tender and delicious. Topped with a melted buttery garlic herb sauce, this is a quick and easy way to have that delectable fancy dinner without a lot of time and preparation!
This lobster tail is so incredibly tasty that it deserves some all-star sides to go with it! Serve it with this grilled asparagus, these biscuits, and this perfectly creamy clam chowder!
Can I Cook Lobster Tails in the Air Fryer?
I am so excited to answer this question with a very enthusiastic YES! You can totally cook lobster tails in the air fryer and they taste delicious. I have a recipe for air fryer crab cakes that are so good so I thought that I should take it to the next step… Lobster tails! This recipe is going to knock your socks off. It is not only delicious with the lobster tail smothered in butter and cooked to perfection but brace yourself when I tell you that this is easy. Yep, a lobster tail that looks like a million bucks and costs you a fortune at the restaurant can now be made in the comfort of your own home.
I love cooking lobster tail in the air fryer because it makes things so simple. You don't need to know how long to boil it or broil it. You just put it in the air fryer and wait while the magic happens. When you open that air fryer up and take this lobster tail out of the basket, it will be the perfect color, and the meat will look so good that it will make your mouth water. Trust me when I say that you cannot miss out on this recipe! It's perfect for any special occasion. When you are done eating dinner then treat yourself to some chocolate-covered strawberries. It will really transport your home into eating a meal at a fancy restaurant!
Ingredients You Need to Cook Air Fryer Lobster Tails
This post just keeps getting easier and easier. You only need six ingredients to cook up the best lobster tails you have ever had! See the recipe card at the bottom of the post for exact measurements.
Lobster Tails: Stick with buying cold water lobsters. When you are buying them, avoid lobster tails that have been soaked in sodium tripolyphosphate. This will ensure that is doesn't taste like ammonia.
Salt and Pepper: A simple seasoning to make this entree taste delicious!
Butter: I used unsalted butter for this recipe.
Garlic Cloves: If you don't have fresh garlic cloves then you can use minced garlic. ½ teaspoon equals about 1 clove of garlic.
Paprika: I love this sweet spice! It adds such a unique and necessary flavor.
Parsley: This garnish adds a great look and taste!
How to Cook Lobster Tails in the Air Fryer
If you have 10 -15 minutes, then you have time to cook these lobster tails. Sometimes I can't believe how easy these are and how they taste like they are straight from a restaurant!
Butterfly the tail: Start by preparing the lobster. Using kitchen shears butterfly the tail by cutting down the center. Loosen the meat and pull the lobster meat upward. Salt and pepper the meat and set on a baking sheet.
Mix butter mixture and spread onto lobster: In a small bowl whisk together the melted butter, garlic, paprika, thyme, rosemary, and parsley. Spread evenly on each lobster tail.
Cook: Place the lobster tail in the basket of the air fryer. Cook at 380 degrees for 5-7 minutes or until the meat is opaque and lightly brown. Serve with melted butter.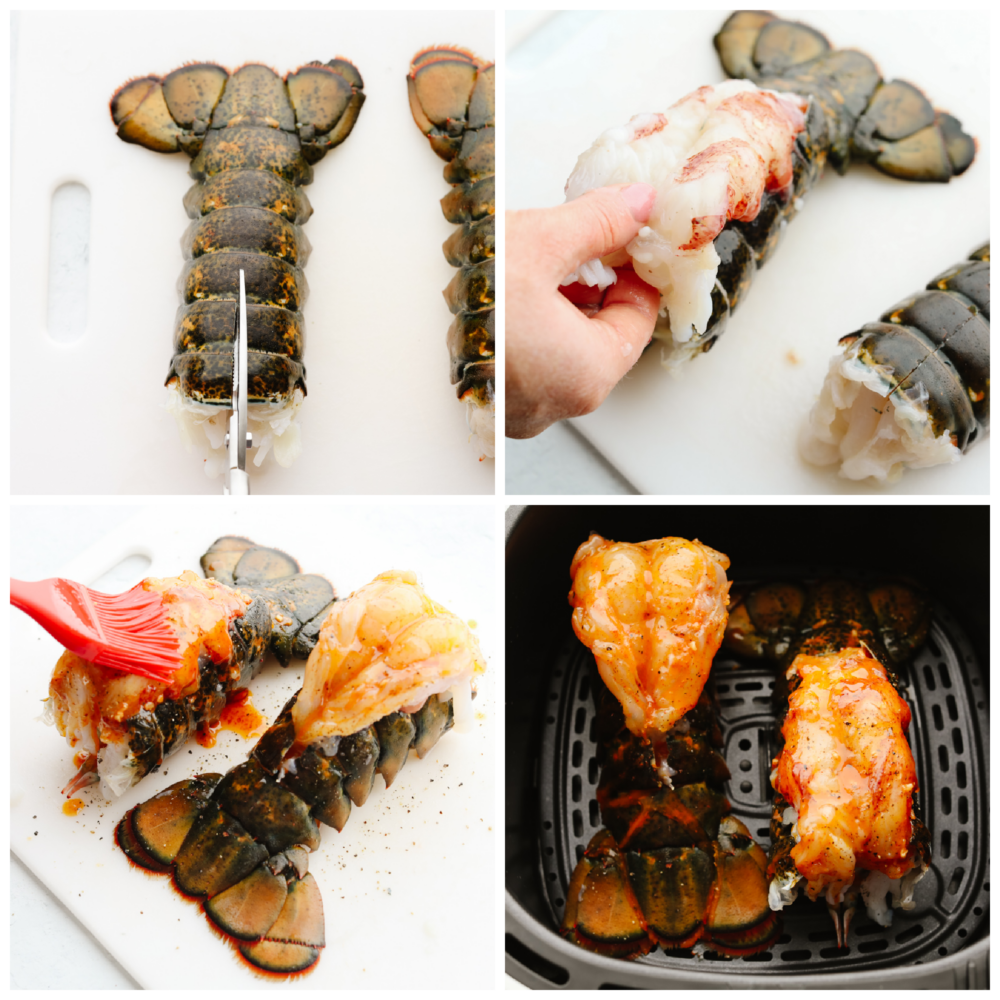 How to Pick Out Lobster Tails
In order to have a restaurant-quality meal at home, you need to know how to pick out the best lobster tails to cook in your air fryer! Here are a few tips to follow when picking the tails out at the store.
Cold Water Lobster Tails: Always buy cold water lobster tails. They have a better taste and are sweeter. If you are wondering how to know if they are cold water or warm water lobster tails, just ask! If they don't know then look at the shell. Warm water lobster has black or yellow spots on the shell. Cold water tails don't have these.
Sodium Tripoyphosphate: You DON'T want to get lobster tails that have been soaked in this prior to freezing. They will have an ammonia taste. If it doesn't say, ask!
Size: Look for lobster tails that are between 5 ounces to 12 ounces. This is a magical size because they typically have a good amount of meat without losing the delicious flavor.
Pay More: When you see different prices of lobster and one is more- get it. This means the quality is higher and trust me, it will be worth the extra price when you realize how much better high quality lobster meat can taste!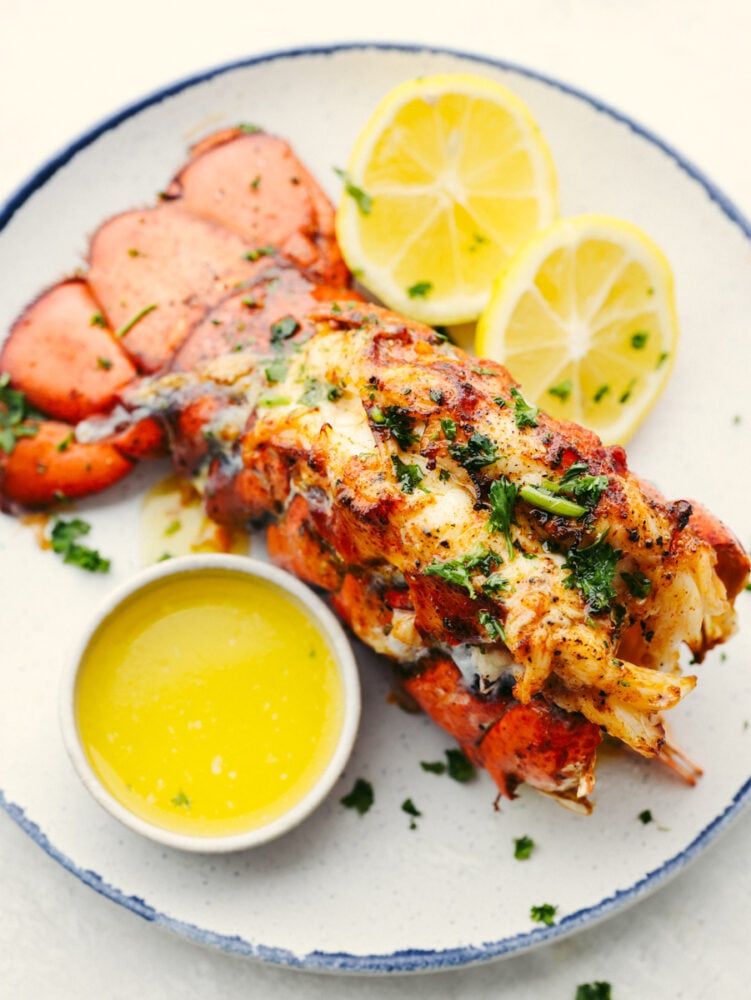 Tips for Cooking Lobster Tails
Types of Lobster: Any type of lobster works well. If you prefer spiny lobster that is great too. Just be careful!
Butterflying the Lobster: If you cut through your meat, it will be okay. Sometimes this will help ensure it is cooked more evenly anyways. You will want to avoid cutting through the bottom shell though.
Temperature to Cook Lobster:  Try your best not to overcook the lobster tails. This will help by using a meat thermometer. The center of the lobster will reach 145*F for best results.
Female Lobster: It is fun to see a slightly pink lobster meat once it is cooked. This pink meat tells you that it is a female lobster.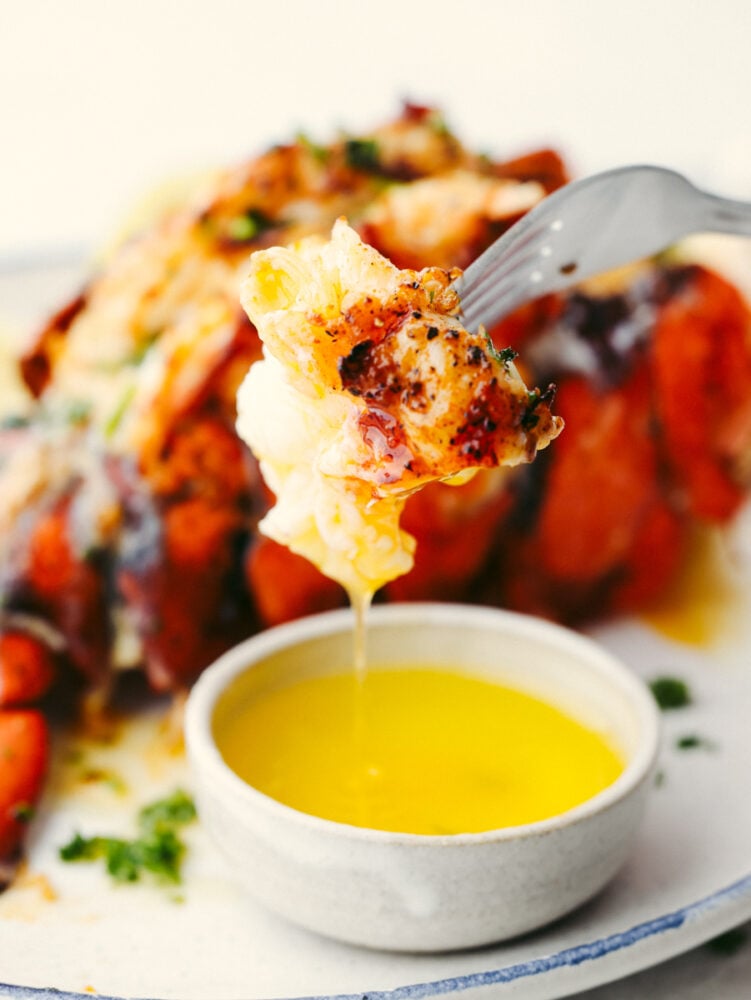 Can You Save Leftover Lobster?
No, it's best to enjoy the lobster tail as soon as you've cooked it. Lobster meat becomes tough when you reheat it, and it doesn't taste very good. Just buy a few extra lobster tails and then cook up some fresh ones if you want this the next day too! This recipe is so easy that cooking up more fresh lobster is a breeze.