This website may contain affiliate links and advertising so that we can provide recipes to you. Read my privacy policy.
This Perfect 10 minute Air Fryer Shrimp is succulent, amazingly seasoned and tender. Get ready because dinner is about to be served!
Serve these Shrimp on a bed of Perfect Instant Pot Rice, or with Easy Fried Rice and some Vegetable Stir Fry for a splendid dinner.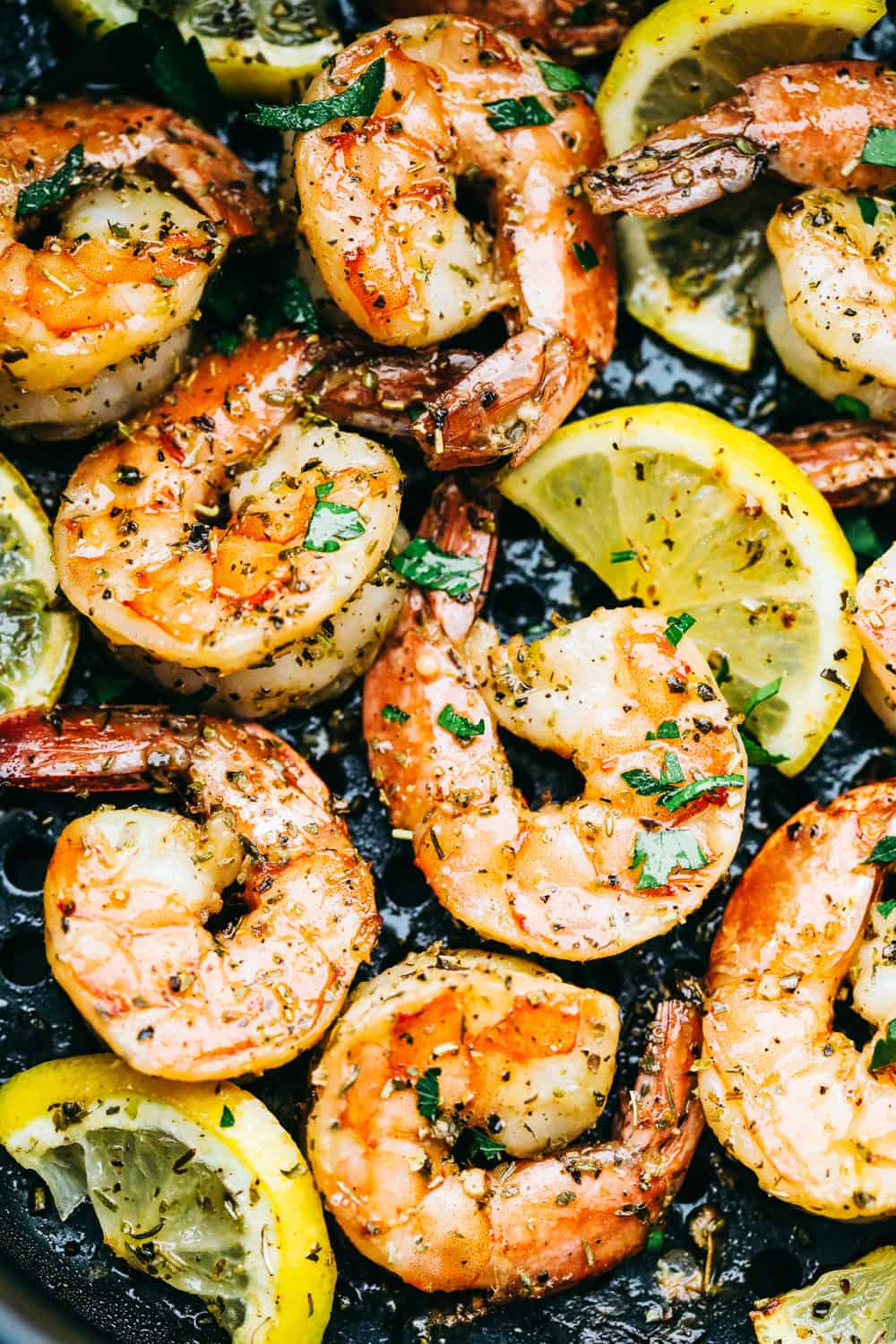 Air Fryer Shrimp
Air Frying is taking the cooking world by storm, and there's good reason too. It's quick. Easy clean up, and creates amazing dishes that more healthy for you. If you haven't tried an air fryer, it's time to get on the bandwagon! And this shrimp recipe is a golden ticket winner when it comes to flavor and ease.
Marinating the shrimp infuses the flavor into the shrimp. Air frying allows the flavor to remain on the shrimp without burning it too, giving it a nice outer coating. The inside is tender and perfectly seasoned. You don't need to add anything else. It's absolutely divine.
Easy Air Fryer Shrimp Ingredients
Quick and easy, but oh so yummy! With this super easy, yet glorious dish, shrimp can be served any day of the week. No more is it reserved for weekends or special events.
Shrimp: Large or Jumbo Shrimp
Salt and Pepper: Just to taste
Olive Oil: Adds a nice mild flavor
Red Wine Vinegar:  Helps the marinate the flavors into the shrimp
Garlic: Minced garlic, can used jarred garlic
Italian Seasoning: A perfect blend of spices.
Lemon Juice: Lemons and shrimp just go together
Soy Sauce: Adds the perfect amount of flavor
Dijon Mustard: A nice kick
Worcestershire Sauce: Adds a nice umami tang.
Making Perfect Shrimp
Just a nice marinade to seep the flavor into the shrimp.
Season: Salt and Pepper the shrimp to your liking
Mix: In a medium sized bowl combine olive oil, red wine vinegar, garlic, italian seasoning, lemon juice, soy sauce, dijon mustard and worcestershire sauce. whisk to combine.
Marinate: Add in the Shrimp and marinate for at least one hour up to overnight.
Drain: Remove the marinade and place in the air fryer basket
Cook: Fry at 400 degrees for 8 min or till pink and cooked throughout.
Tips for the Best Shrimp
A few tips and tricks will help you have those perfect shrimp every time.
Frozen: You can definitely use frozen shrimp, make sure they are thawed before you marinate them.
Overcrowd: Don't put too many in the air fryer basket. It needs to be able to circulate the hot air around the shrimp to cook them. If you have to cook in batches.
Flip it: You can flip the shrimp half way through although you don't have too, it's a preference
Tails: Removing the tails is also a preference thing. I left them on.
How do you Know Shrimp is Done?
Sight: When shrimp turns to that beautiful pink color all over with red tells and the flesh has a nice opaque whiteness to it. It's done.
Temp: The internal temp of cooked shrimp is 120 degrees F.
Over Cook: You don't want to over cook shrimp. It becomes rubbery so check it before you think it might be done. And remove promptly once it is as it will keep cooking in the fryer if left.
Storing: Keep leftovers in an airtight container in the fridge for up to 3 days.
Reheat: Reheat leftovers in the air fryer, the microwave will make them soggy.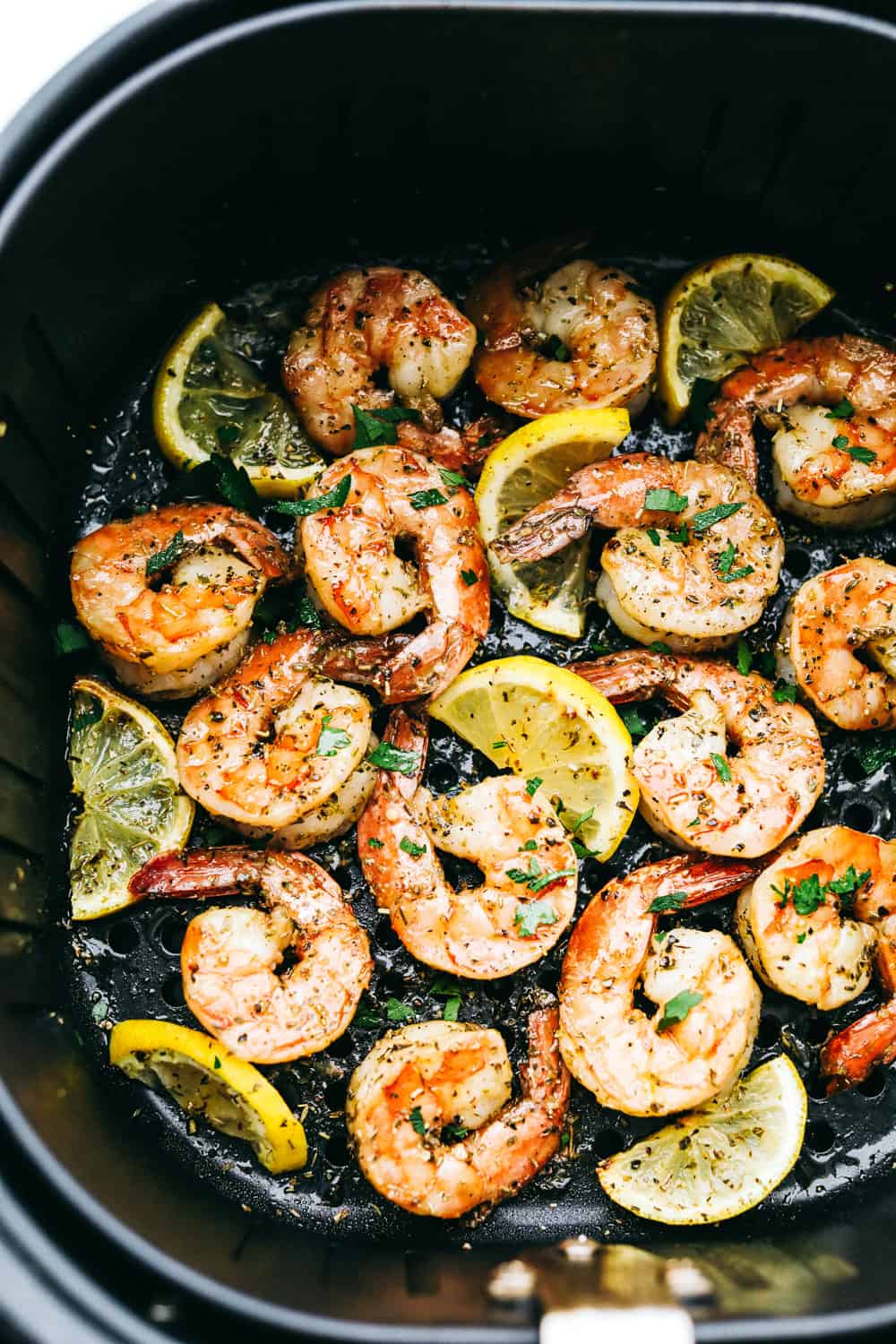 More Shrimp Recipes to Love
Shrimp is really an easy dish and you can make it so many different ways!